Global Expo 2012
We are excited to be a part of the 2012 Global Activism Expo!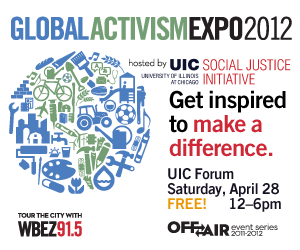 The event is hosted by Chicago Public Radio this Saturday, April 28th. We would love to see you! Come say hello to Causes for Change International, to our volunteers, and partners: COPA Airlines and Alder Healing Center; participate in a raffle to Win Two Free Airline Tickets with our preferred travel partner: COPA Airlines from Chicago-Panama-Chicago; Art purchases and other items created by volunteers will also be available. Get updated on the work of Causes and prepare to volunteer in our travel mission, and in many other ways. We are a 100% volunteer organization.
The Global Activism Expo is also an incredible opportunity to meet similarly-minded organizations, representing work in over 100 countries with efforts ranging from helping establish dental clinics, sending bicycles to Latin America, to providing medical services in Haiti, and so much more. Complete with food, music and over 100 Chicago-area Global Activists we promise it will be worth your while!
This year we have the opportunity to share and visit with you in a workshop setting. You have the opportunity to participate in a travel ticket prize with our preferred travel partner Copa Airlines.
CLASSROOM G: Health and Nutrition
1:00pm: Causes for Change: Supporting communities through partnerships
Causes for Change International and COPA Air
Details of the Expo:
What: Global Activism Expo hosted by Chicago Public Radio
When: Saturday, April 28th • 12:00pm – 6:00pm

Where: UIC Forum 725 W Roosevelt Rd. Chicago, IL 60607
Cost: FREE Admission!
Causes for Change and COPA Airlines Raffle Criteria:
Tickets are valid for Coach Class travel on Copa Airlines, and may only be used for the above-mentioned activity.
Your travel must take place within one (1) year from above date. Once ticket is issued is valid for 90 days.
Tickets are not transferable, not refundable. Route changes are not permitted and tickets may not be sold.
Upgrades are not allowed.
Reservations must be made at least 30 days in advance of the departure date and are subject to availability.
Passenger will be responsible for any excess baggage fees.
Copa Airlines is not responsible for the payment of government or airport taxes imposed by city of origin or destination. Such taxes must be paid when the tickets are issued.
We look forward to seeing you for many years to come!