It was only natural that once I learned about Causes for Change International and Zully's mission that I instantly wanted to be a part of such an incredible organization.  The trip along the coast of Ecuador proved to be one of the most challenging yet meaningful trips I have ever been on.
I served the role of an occupational therapist, interpreter, and photographer.  I helped Zully with the translations during talks, casual conversation, and trainings.  It was very meaningful for me to be translating as I was communicating the importance of occupation, accessibility and overall human rights. There were an abundance of fulfilling moments throughout the trip:  One of them was being able to learn about Ecuadorian culture through the food, music and people we met whom were all so loving and welcoming.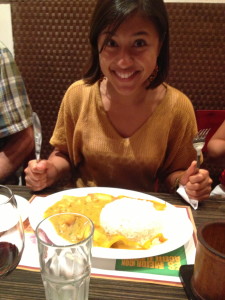 Everywhere we went there was food! The flavors were out of this world. Another was being able to listen to Zully speak to the community members, local government officials, and people with disabilities because she speaks from the heart to fight for what she believes in – human equality.  It felt like I was watching history unfold before my eyes. Another was being able to educate people about occupational therapy through different therapy techniques and interventions used in the United States. Yet, I think one of the most heart-warming moments for me was meeting Jose, a little boy who is hard of hearing and whom primarily communicates through pointing.  Thanks to my knowledge of sign language, I was able to teach him how to say his name using sign language in front of his family, teacher and friends of the community.  It was an incredible feeling.
Words cannot truly do the trip justice, as a lot of these moments are not fully understood unless experienced first hand.  As a team our goal was to educate and empower those whom have a disability truly know that living a full, independent life is possible with the appropriate tools and environment.  This trip was truly a dream made reality because it not only confirmed my passion for occupational therapy and helping others, but also my purpose as a person.  I highly recommend volunteering with Causes for Change International, as it will truly be an unforgettable, remarkable and gratifying experience.