Global Expo 2013
Posted on April 14, 2013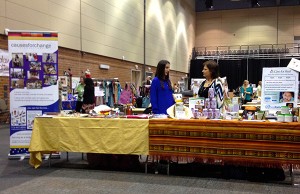 We were happy to participate in the 2013 Global Expo co-sponsored by WBEZ and UIC Social Justice Initiative at the UIC Forum on April 6, 2013. We were one of the 91 "Activists" who shared our work being done throughout the world. From this experience we have begun sharing ideas with AMIM Congo, Share Your soles, and a few other groups.
Tamara Fouts and Maria Jose Morla flew in from Florida to provide booth support. Charlie Lema a Chicago resident was also available to help answer questions.
This year we were able to feature our partnership with Give for Real Mannatech, a project of Manna Relief (see www.mymannapages.com/cci)  that provides nutritional nourishment to children in many countries throughout the world.  We are eager to help  get this program in more countries of Latin America and with your support we are certain that we will succeed.